Davie Pro Concrete Company
Davie Pro Concrete Company – Concrete Services – Davie, FL
Davie Pro Concrete Company is Broward County's one stop contractor for the finest construction in concrete, brick, and natural stone. Our team has over ten years' combined experience with building high quality hardscape such as driveways, patios, and pool decks.
Whenever Davie residents or those in the surrounding area need construction or repairs, they know that they can count on Davie Pro Concrete Company to get the job done right. We hold a deep commitment to quality workmanship and customer service. We believe that every customer deserves the very best, which is why we only use the highest quality materials for every job.
For the most reliable concrete contractors in Davie, FL get in touch with our team. Dial (954) 799-4773 now for free estimates!

About Davie Pro Concrete Company
Our company strives to provide our clients with the best quality concrete and stone hardscape in Davie, Florida. We want your home or business to stand out from the rest with a beautiful, sturdy design that will last for many years. With years of experience under our belts, we have learned the most effective methods to create functional yet appealing projects that perfectly suit our client's needs.
Our lovely city features a wide range of architectural styles, which adds to its charm. We also appreciate the importance of complementing existing structures in any new development. Therefore, we commonly partner with owners of Victorian, Greek Revival, and Colonial homes. In addition, we have extensive experience working on condominiums, vacation homes, and business blocks. 
We only call ourselves "Pros" because we have the experience and expertise to back it up. When it comes to concrete, we like to say that we have it all down pat–but for us, it isn't a science so much as an art form. Once you let us know what kind of driveway, pool deck, or patio you're envisioning, our team will get to work with enthusiasm and skill. If you would like to learn more about how we can help you realize your vision for your property, please read on–or call us at (954) 799-4773.
Davie Pro Concrete Company Services
Pool Decks
A mesmerizing pool deck is what we aim to create for you, whether that means shimmering under the Florida sun or glistening at night beneath installed lights. We'll utilize many tried and true methods to achieve this goal, all delivered with pinpoint precision by our talented team. Call us at (954) 799-4773.
We're experts in stamped concrete services. We can take an uncured surface of poured concrete or pavers and imprint it with designs. If you want contrast, no problem; that's easy for us. Concrete can be stamped to look like natural stone. So if you want a terracotta or flagstone pool deck, you imagine what we could do for you.
By utilizing colored concrete, you open up a world of possibilities regarding design and aesthetics. With decades of experimentation and numerous technological advancements, there are endless options for choosing the perfect color for your project. Whether you want your deck to blend in with the landscape or stand out from the crowd, we can help you achieve your vision. We also offer concrete repair and refurbishing services if you need touching up.
Of course, safety should always be the top priority, especially on wet surfaces. So we recommend a slip-resistant treatment for pool coping and the deck to prevent accidents. Different methods can achieve this goal, such as a broom finish or salt-finished concrete. A broom finish is created by running a special bristled broom across wet concrete to leave grooves behind that will be easy to walk on once it dries. The salt-finished Method involves sprinkling rock salt over an uncured surface, leaving tiny pockmarks that help with gripping after they're removed. Call us at (954) 799-4773 for top-quality pool decks.
Patios
Some of the finest homes have our mark of excellence upon them. Clients often ask us to construct concrete patios because they want to spend time with friends and family. We love taking on these projects and building patios that meet our client's expectations.
Concrete is just as versatile for patios as it is for pool decks. You can choose any color you want. Colored concrete works like a dye, changing the whole batch's color, not just the surface. And our stamped concrete service can create any look you desire, from natural stone to brick pavers.
At Davie Pro Concrete, we specialize in poured concrete and concrete pavers. We create custom pavers off-site to the client's specifications, making for easy installation over prepared soil. If you have an older patio that needs a makeover, we can place a thin layer of the concrete overlay on top of the existing concrete to restore it to its former glory. These are just some ways we can help transform your outdoor space.
Concrete Walls
Did you know that a concrete retaining wall looks not only handsome from its perch atop a sloped landscape but also supports loose soil and decreases the risk of an impending collapse? We construct outstanding retaining walls here at our company. They can support soil on one side while displaying a flight of steps or business signage on the other. The excellent thing about retaining walls is their multifunctionality– ours can even act as boundaries for your landscape, garden, or swimming pool.
Driveways
We understand that for many home or business owners, the driveway is a focal point of their property. The curb appeal it leaves behind can make lasting impressions. We always try our best to work on driveways because we know their importance. You'll get great stamped concrete service, colored concrete service, and more when you come to us or call (954) 799-4773.
Not only can we lay down a fully garnished driveway, but we can also install concrete pillars at your entrance for a majestic welcome. Concrete driveways are not only durable in the Florida heat but also very tough under any kind of abuse, with their edging being crisp and straight. In addition, you're guaranteed to get the look you desire because concrete is versatile.
Other Concrete Services
The photo above is only a small example of our capabilities. We can do so much more than that with Davie concrete masonry. For example, on days when the Florida heat is unbearable, we can install cool decking to deflect sunlight and keep it from burning your skin. We specialize in concrete walkways, stairs, countertops, and fireplaces indoors and out, and we also offer to resurface and refinish older concrete. This process may include our concrete grinding service, a method of leveling an old surface with an abrasive pad to create smoothness before applying concrete overlay or refurbishing. There's not much we can't do. If you're curious about what else we offer, simply pick up your phone and give us a call at (954) 799-4773.
Davie Masonry Contractor
Concrete became versatile over the years because it attempted to catch up to stone and brick masonry in beauty. And while concrete has done a very good job, some clients still prefer quarried quality.
Stone Masonry
A stone wall is always charming, and we build them to the highest standards. We work in both dry stone and mortar and cover some of the most popular materials for the purpose, such as:
Sandstone

Fieldstone

Limestone

Granite
With Davie Pro Concrete Company, you'll get the skill and experience needed to build a stunning stone wall and the confidence that comes with it. In addition, we're dedicated to providing amazing customer service, so call us today!
Stone veneer is a type of faux stone used on low-impact vertical surfaces. We place a thin layer of real stone over concrete backing to create a convincing appearance. This veneer can be grooved, chiseled, or etched into many designs.
Stacked stone is used for vertical surfaces and is not attached to a backing. Clients love stacked stone because it has a natural shine and exposes the thin edges of the stone, which create different textures depending on the type of stone being used.
Do you want an outdoor paved area like a patio or around your pool? Walk-on surfaces are our specialty, and we'll ensure they look amazing. Then, after discussing the look of what you're going for and its purpose, we get to work. Some popular types of paving stones are cobblestone and travertine but don't worry, no matter which material you choose -it will be beautiful AND long-lasting.
We also build stone pillars in addition to the concrete ones we initially offered to construct at the end of your driveway. Not only can these add decoration, but they can make your property appear bigger than it is. Again, a smart choice would be either limestone or granite for these pillars; they also look good alongside natural stone fireplaces, which just so happens to be one of our many specialties.
Retaining Walls
We construct retaining walls from various materials so that you can find the perfect aesthetic for your home or office. Don't worry about looks–these babies are tough and will keep any hilly landscape in place. Plus, we're not afraid to get creative with our designs. Whether you want a straight wall or something more intricate, we'll make it happen according to your specifications. So give us a call today at (954) 799-4773 for all your retaining wall needs.
Brick Masonry
Davie Pro Concrete Company offers some of the best brick masonry work in the area. For example, we can build an outdoor fireplace out of brick that will look great on any patio or pool deck. We also specialize in brick walls. Brick pavers are solid all the way through and are used on flat surfaces that often get walked on, like patios or pool decks. They're easy to clean and fix, and because they don't readily absorb liquid, they're resistant to staining – making them a great choice for any project you might be considering.
Other Masonry Services
The above doesn't cover everything. To do that, we'd need to keep you here for the rest of the day. But before you pick up that phone to give us a call, let us say that we're also happy to do the following:
Countertops

Walkways

Stairways

Outdoor kitchens
We can go on and on. So give us a call and share what's on your mind.
Getting started is that simple—call us up. From there, the seasoned experts at Davie Pro Concrete Company can find out what you'd like to have done and get right to work. Again, we thank you for your patronage. We won't let you down. Call us today at (954) 799-4773.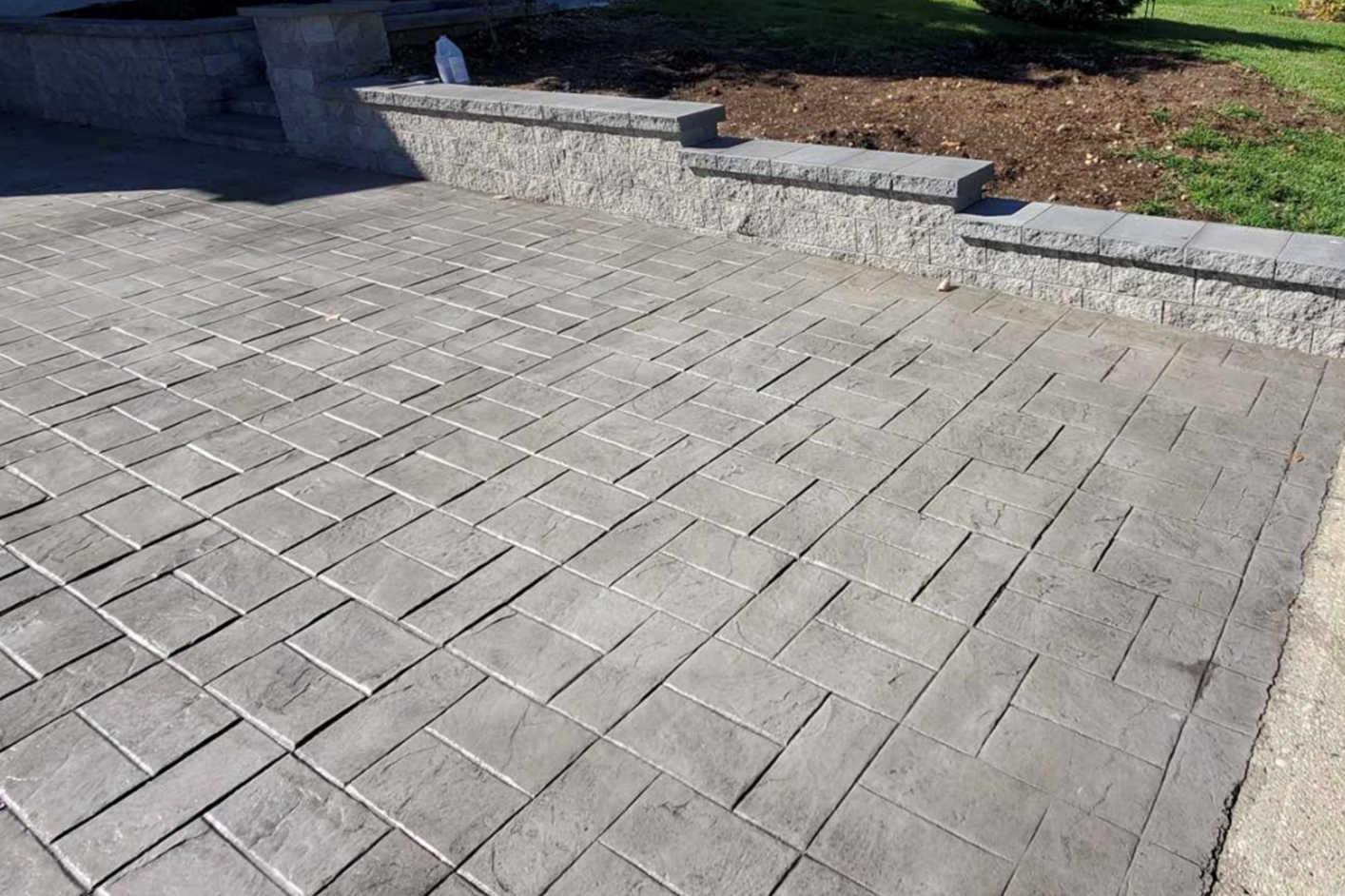 Contact Us Today!
When it comes to concrete solutions, Davie Pro Concrete Company has you covered! Whether you need help with a new construction project or repairs on an existing structure, our team can provide efficient and effective solutions every time—ensuring that your job is completed safely and as quickly as possible without compromising quality or cutting corners. All of our projects are designed to meet safety guidelines, budget requirements, and aesthetic demands, so when you work with us, you know your investment will be worth it. Let us show you why the Davie Pro Concrete Company should be your go-to choice for any concrete needs — contact us today at (954) 799-4773!